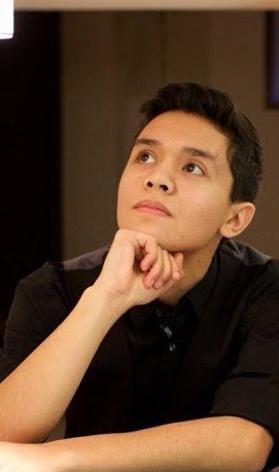 Gregory Vandikas comes from a musical family of six and is a graduate of the Grade 8 French Immersion program at Mazo de la Roche P.S. in Newmarket. He completed his practical exam for his Associate Diploma with the Royal Conservatory of Music (Toronto) and received a First Class Honours with Distinction standing. His former teachers include Janice Lin, Sheila Vandikas, George Vandikas, and Dennis Chan (history and harmony). He is currently preparing to complete his Licentiate Diploma with his current teacher, Dr. Michael Esch.
Gregory has performed in masterclass for such noted artists as Shai Wosner, Benedetto Lupo, Suzanne Beaubien, Mari Kodama, William Aide, Paul Komen, Jamie Parker, Igor Roma, Yoram Ish-Hurwitz, Michael Berkovsky, and Curtis Institute Professor, Meng Chien Liu. In the summer of 2015, he participated in one of the largest chamber music festivals in the northern Netherlands, the Peter de Grote Summer Music Festival. He won the 2nd place award and scholarship in the ARCT class at the 2016 Ontario Music Festival Association Provincial Competition, as well as ORMTA's Level A Zone Artist Award. Gregory is a past recipient of the Newmarket Arts Council Grant.
He has been a featured performer and scholarship recipient for several piano competitions, including the Newmarket Lions Music Festival, the Pickering Rotary Music Festival, Pickering GTA Music Festival, South Simcoe Arts Council Music Festival, North York Music Festival, Toronto Kiwanis Music Festival, ORMTA GTA Zone and Provincial Competitions, the Markham Music Festival, the Ontario Music Festival Association Provincial Competitions, and the Canadian Music Competitions National Finals. He was one of the performers and bursary winners of the 2013 Celebration of the Arts held at the Newmarket Theatre and was awarded the Most Promising Pianist from the 2014 North York Music Festival. He won first in his age division in the 2017 Crescendo International Piano Competition (Toronto), and performed at Carnegie Hall in New York City. In April 2017, he was invited to perform live at the New Classical FM 96.3's noon hour show, where he performed both as a soloist and with his piano duo Duo con Fuoco, recent first place winners at the 2017 CMC National Finals. He has performed as a guest performer alongside his two brothers and sister at the Arts and Letters Club in Toronto, and has performed at Visual and Performing Arts Newmarket's concert series with his family, Vandikas6 in May 2018.
Gregory played the saxophone for his elementary school's Concert Band, Stage Band, the Newmarket Enrichment Band, and the York Region Enrichment Band Camp. He continues to play the saxophone, as well as the bassoon and cello at his current school, Unionville High School where he is enrolled in the Arts Unionville program. He studies the cello with cellist, Hannah Jackson in Newmarket. Besides music, he has enjoyed competitive cycling, running, karate, and soccer.